Description
Appealing to all levels of weather enthusiast from the casual observer to the serious weather bug, the new basic Wireless Color Forecast Station from La Crosse Technology has advanced features unlike any other of its kind. e 300-foot sensor transmission provides flexibility in placement. With the newest feature set, you still have the ability to view indoor and outdoor temperature and humidity, the date which includes the full spelling of the day of the week, day and month, and time which sets itself using Atomic Time. Providing you with a sleek, modern design, this weather station is a perfect fit to any home or office décor.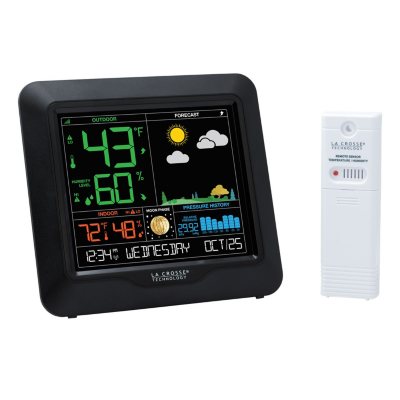 Forecast Faves
Displays relative barometric pressure, numeric pressure history, a 24-hour pressure history graph, and moon phase with 8 different moon phase icons.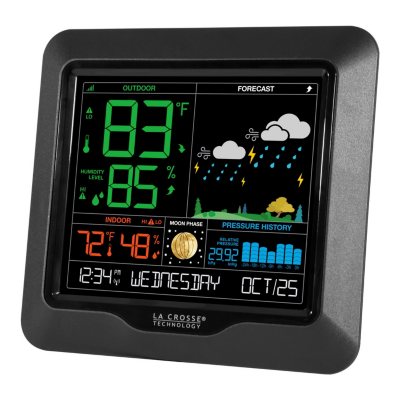 Easy-To-Read
The changing seasonal foliage and colorful forecast icons let you know in a glance what to expect.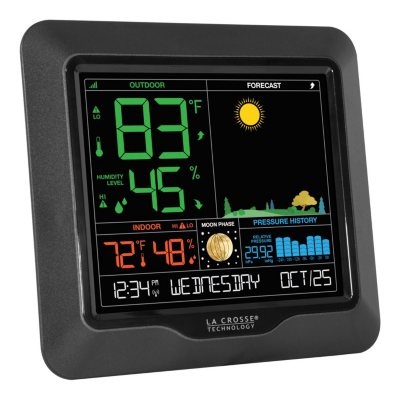 Portable Screen
The bright colorful display can be hung on the wall or freestanding with a new and improved adjustable kickstand.
Specifications
Indoor/outdoor temperature/humidity
Weather forecast
Relative barometric pressure with 24 hour pressure history graph
Heat index and dew point for outdoor
Atomic time/date with manual settings
Moon phase
Manufacturer Info
1-855-605-6888

Assembled Country
China

Assembled Size
6.89″ x 6.50″ x 1.18″
Color Forecast Station
La Crosse Technology's newest Color Forecast Station features a large, easy-to-read display with comprehensive temperature, humidity, forecast and barometric pressure data.
For accurate real-time backyard temperature and humidity updates simply mount the wireless sensor in a shaded location outside of your home.
These temperature and humidity readings will show up in large digits on your LCD screen, allowing for an easy viewing experience.
Designed for Performace and Accuracy
The Temperature & Humidity sensor is compact and functional. Its unique design allows for mounting from the front, hanging from the back, or simply free standing on its own. It also features a front access battery compartment that truly makes changing the batteries a breeze. This sensor was built with high quality components to deliver exceptional accuracy at a greater distance. Its 433 MHz transmission allows you to mount the sensor up to an 300 feet away without disruption.
Plan your day around your weather
Use this station's dynamic forecast icons to plan your day around your weather. Reacting to changes in barometric pressure, these icons will adjust to represent your forecast to come in the 6 to 12 hours. And as the seasons change, so will the colorful foliage below these weather icons.
Key Features
Easily set custom high and low temperature and humidity alerts, for both your indoor and outdoor readings. Having the knowledge of these ambient conditions can help you make decisions that keep the things you love, safe.
Some other key features include:
Barometric pressure readings with an animated history graph that displays the pressure trend over the past 24 hours.
A beautiful Moon Phase readout that automatically adjusts according to the lunar calendar.
An atomic time and date setting, which will allow the station to accurately set itself, as well as update for Daylight Saving Time all on its own.
Daily high and low temperature and humidity records, as well as heat index and dew point readings.
Temperature Trend Arrows that represent current changes in temperature and humidity.
Adjustable backlight, with High, Low, and Off settings.